Ashki's Story
June 10, 2022 by Loren Balisky
Ashki Shkur arrived in Canada in 2017, was student council president at Britannia Secondary School 2021-2022, and is now heading to UBC on a full $80,000 scholarship.
So proud of this young woman!
Thanks to you—if you are a Kinbrace supporter—Ashki not only lives safely in Canada, she is achieving her dreams.
Read her story in this Vancouver Sun article.
Read her story and watch the video in this CTV article.
She's been on quite a journey so far, in her young life. What's next?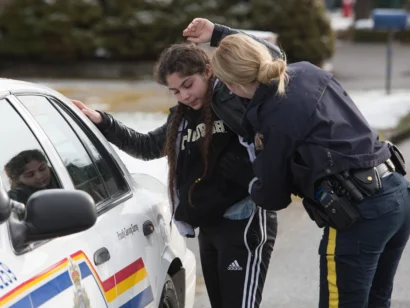 In the photo above, Ashki, 12 years old at the time, was taken into custody by RCMP after walking across the U.S.-Canada border with her parents and sister in Surrey in 2017. (PHOTO BY BEN NELMS /Reuters)
Soon after crossing the border, Ashki and her family were welcomed with housing and wrap-around support in the Kinbrace community.
Donate now to support the next young person seeking refuge and protection. Intervene at this vulnerable moment so they can stabilize and thrive. Just like Ashki.