Resources – For Service Providers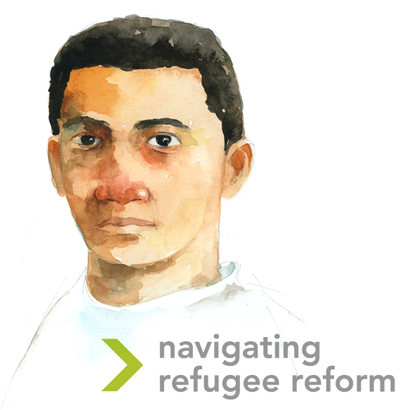 If you are a service provider wanting to learn more about Canada's refugee determination system or need information to help someone who is seeking protection, the following comprehensive list of resources, tools, and links should help you find what you need. Kinbrace is located in Metro Vancouver, so some of the details are region specific.  Remember, because the refugee determination system is federal, the process applies across the country.
Understand Canada's new refugee protection system
As Protecting Canada's Immigration System Act (PCISA – Bill C-31) has come into force, refugee claimants and service providers alike have had to educate themselves on how best to manage this expedited and complex refugee determination system.
Through the Navigating Refugee Reform Workshops offered January-May 2013 in BC's Lower Mainland, a comprehensive list of resources, tools, and links was compiled to assist refugee claimants, service providers, and others to understand and navigate this new system.
Please follow the links below to access resources.
TIMELINE FLOWCHARTS FOR REFUGEE CLAIMANTS
Legal Services Society Refugee Claim Flowchart
Canadian Red Cross First Contact Flowchart
Canadian Council for Refugees Refugee Claimant Flowchart
Refugee Status Determination Flowchart
GOVERNMENT RESOURCES AND FORMS
Immigration and Refugee Board of Canada Claimant's Kit and Basis of Claim form
Immigration and Refugee Board of Canada Refugee Appeal Division
Citizenship and Immigration Canada Forms for Applying for Refugee Protection from Within Canada
Citizenship and Immigration Canada Guide for Applying for Refugee Protection from within Canada
Citizenship and Immigration Canada Designated Countries of Origin
KINBRACE'S READY GUIDE – REFUGEE HEARING PREPARATION
REFUGEE HEARING PREPARATION: A GUIDE FOR REFUGEE CLAIMANTS  (for claims referred on or after 15 December 2012)
LEGAL INFORMATION AND RESOURCES
University of Ottawa Refugee Assistance Project
Canadian Bar Association List of Lawyers practicing Refugee Law in British Columbia
Refugee Law in 6 Basic Steps – Lesley Stalker
Free Legal Advice and Representation in the BC Lower Mainland
HEALTHCARE ELIGIBILITY AND RESOURCES
Interim Federal Health Program Information Sheet
Interim Federal Health Program Summary of Benefits for Refugee Claimants
BC Medical Services Plan Eligibility and Enrolment
SERVICE PROVIDER TOOLS, RESOURCES, AND LINKS
Canadian Red Cross First Contact Program
Canadian Council for Refugees Refugee Reform Resources and Links
Agencies Assisting Refugee Claimants in BC
Refugee Claimant Settlement Checklist – Kinbrace Community Society
Refugee Claimant Issues Checklist – Settlement Orientation Service
EVIDENCE GATHERING AND PREPARATION
National Documentation Packages (IRB)
Human Rights and Country Condition Reports (UNHCR)
Convention and Protocol Relating to the Status of Refugee Claimants (UNHCR)
International Gay and Lesbian Human Rights Commission
Forced Migration Country Information Resources
* if link is unresponsive, please e-mail [email protected]